"We must know that we have been created for greater things, not just to be a number in the world," Mother Teresa (1910-1997) once said. "We have been created in order to love and to be loved."
That we are a created being is an inherent part of our human nature, Irenaeus of Lyon explained in Against Heresies. That we were created for a purpose is something we learn through the "process of becoming", Thomas Merton wrote in No Man is an Island. And part of that process is recognizing that being "other-oriented" and loving others is the "source of happiness", the Dalai Lama says in The Book of Joy.
Indeed, Mother Teresa's words – many of which can be found in the book, Mother Teresa: Her Essential Wisdom (2006), edited by Carol Kelly-Gangi – find their place among some of the greatest giants of the faith, whose wisdom has echoed throughout the generations.
Canonized as a Saint on September 4, 2016, Mother Teresa is regarded as one of the 20th century's greatest humanitarians, having founded the Order of the Missionaries of Charity, a Roman Catholic congregation of women dedicated to helping the poor.
In the half century of her pubic life, she visited and spoke in more than 100 countries about the subjects closest to her heart. Below is a sampling of her inspirational words, spoken and written during her lifetime.
On love:
"We should ask ourselves, 'Have I really experienced the joy of loving?' True love is love that causes us pain, that hurts, and yet brings us joy. That is what we must pray and ask for the courage to love."
On helping others:
"The very fact that God has placed a certain soul in our way is a sign that God wants us to do something for him or her. It is not chance; it has been planned by God. We are bound by conscience to help him or her."
On giving:
"I ask you one thing: do not tire of giving, but do not give your leftovers. Give until it hurts, until you feel the pain."
On peace:
"We must live life beautifully; we have Jesus with us and he loves us. If we could only remember that God loves us, and we have the opportunity to love others as he loves us, not in big things, but in small things with great love, then [our country] becomes a nest of love…a burning light of peace in the world."
On humility:
"Take away your eyes from yourself and rejoice that you have nothing – that you are nothing – that you can do nothing. Give Jesus a big smile each time your nothingness frightens you. Just keep the joy of Jesus as your strength – be happy and at peace, accept whatever he takes with a big smile."
On joy:
"Joy is one of the best safeguards against temptation. The devil is a carrier of dust and dirt and he uses every opportunity to throw what he has at us. But a joyful heart protects us from this dirt. That is because Jesus is there in our joy. Jesus takes full possession of our soul when we surrender to him joyfully."
On "poverty":
"Before God we are all poor. We are all handicapped in oneway or another. Sometimes it can be seen on the outside, sometimes it is in the inside. The healthy person may be closer to dying or even more dead than the person who is dying. They might be spiritually dead, only it does not show."
On forgiveness:
"When we realize that we are all sinners needing forgiveness, it will be easy for us to forgive others. We have to be forgiven in order to be able to forgive. If I do not understand this, it will be very hard for me to say, 'I forgive you' to anyone who comes to me."
On not judging others:
"Try not to judge people. If you judge others then you are not giving love. Instead, try to help them by seeing their needs and acting to meet them. It isn't what anyone may or may not have done, but what you have done that matters in God's eyes."
On mercy:
"We must cultivate the sacred silence which makes people remember the words of Jesus: See how they love one another. How often we find ourselves speaking of the faults of another. How often our conversation is about someone who is not present. Yet see the compassion of Christ toward Judas, the man who received so much love yet betrayed his own master. But the master kept the sacred silence and did not betray Judas. Jesus could have easily spoken in public – as we often do – telling the hidden intentions and deeds of Judas to others. But he didn't. Instead, he showed mercy and charity. Rather than condemning Judas, he called him his friend."
On faithfulness:
"God does not demand that I be successful. God demands that I be faithful. When facing God, results are unimportant. Faithfulness is what is important."
On kindness:
"Holiness grows fast where there is kindness. I have never heard of kind souls going astray. The world is lost for want of sweetness and kindness."
On holiness:
"Nothing can make me holy except the presence of God and to me the presence of God is fidelity to small things. Fidelity to small things will lead you to Christ. Infidelity to small things will lead you to sin."
On belonging to Christ:
"Don't allow anything to interfere with your love for Jesus. You belong to him. Nothing can separate you from him. That one sentence is important to remember. He will be your joy, your strength. If you hold onto that sentence, temptations and difficulties will come, but nothing will break you. Remember, you have been created for great things."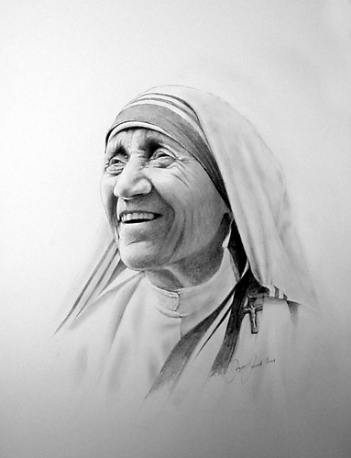 On being called to serve:
"God loves me. I'm not here just to fill a place, just to be a number. He has chosen me for a purpose. I know it."
On saying 'yes' to God:
"We must know exactly when we say yes to God what is in that yes. Yes means 'I surrender,' totally, fully, without any counting the cost, without any examination: 'Is it all right? Is it convenient?' Our yes to God is without any reservations."
On light and darkness:
"When you look at the inner workings of electrical things, you often see small and big wires, new and old, cheap and expensive, all lined up. Until the current passes through them there will be no light. That wire is you and me. The current is God. We have the power to let the current passthrough us, use us, produce the light of the world. Or we can refuse to be used and allow darkness to spread."
On speaking to the youth:
"Young people, open your hearts to the love of God. He loves you with tenderness, and he will give you not just to give but to share. And the less you have, the more you can give; and the more you have, the less you can give. And so, when you are praying, ask for courage, and give and give until it hurts. This kind of giving is love in action."
On prayer:
"Prayer is not asking. Prayer is putting oneself in the hands of God, at his disposition, and listening to his voice in the depths of our hearts."
On seeking God:
"I believe that God has created each soul, that that soul belongs to God, and that each soul has to find God in its own lifetime and enter into his life. That is what is important. All of us need to seek God and find him."
---
Similar posts: